10+ Best AI Video Upscaling Software of 2023: Max Resolution
Ready to take your videos to the next level but don't know where to start? AI video upscaling software is here for you, no matter if you're a streamer, hobbyist or just someone looking for professional-looking content. Here I have compiled a list of the best of the best in AI video upscaling.
AI video upscaling software can take your videos to a whole new level, transforming them from 480P to 8K resolution with seamless results.
To help you find the best tool for your needs we have reviewed the top programs on the market and ranked them based on features, use cases, pros & cons as well as pricing.
So whether you're looking for an economical or comprehensive solution – this guide has got it all.
What Is The Best AI Video Upscaling Tool?
If you're looking to upgrade your video quality, the below AI upscaling tools are the God tier.
Choose one of these cutting-edge solutions today and take your visuals to new heights.
Overview
Neural. Love is a powerful AI video upscaling software that can drastically increase the resolution of your videos by 4x.
Developed using thousands of hours worth of footage, this algorithm-trained program not only produces stunning results but also comes with an inbuilt "Render Preview" feature allowing you to check and verify the outcome before investing credits.
Plus, it even provides custom colourisation for vintage films – giving them new life like you wouldn't believe possible.
Highlights
With the help of AI-driven Render Preview, you can achieve professional video quality with high resolution and clarity.

Before paying for any services, get an instant preview of your work.

It provides custom colorization that brings low quality videos back to life – all at the click of a button.
Pricing
Their pricing model and ai model are based on a credits system, with different plans offering varying amounts of credits.
Unused credits are rolled over to the following month for your convenience.
As an added bonus, the offer a free trial period for images only – videos are not included.
You can get 5 free credits to try it out for free.
The subscription package is $30 per month for 300 credits.
The no subsciption a la carte option is a one time payment of $57 for 300 credits
Bottom Line
Neural Love Video Enhancer AI is a definitive answer for those looking to take their video content up a notch.
Their revolutionary noise reduction algorithms, automated beauty adjustments, an abundance of filters, and the ability to add text or audio commentary will make your videos truly stand out.
Plus, you can easily integrate it into any existing video-editing workflow – making optimizing footage faster than ever before.
Get ready to fall in love with what our AI has to offer.
Overview
If you're in search of a powerful artificial intelligence-based video upscaling software solution, AVCLabs Video Enhancer AI is an ideal choice.
This unique software provides 4K high resolution video support, batch processing capabilities and lightning fast speeds – ensuring superior quality results with minimum effort from the user.
Casual and hardcore users alike will appreciate its many features; making it one of the most sought after solutions for high definition videos.
Highlights
Identify all of your video participants with the state-of-the-art face enhancement tool.
Secure the privacy of individuals with the face blur feature, ensuring that their identity remains undisclosed.
Upgrade your videos to an unbeatable level of quality with superior frame-by-frame enhancement model, which is capable of upscaling to 4k or 8k.
Ditch dated, interlaced images and embrace progressive high-resolution film for a superior viewing experience.
Equipped with a specific noise-erasing feature to decrease distortion and obliterate any unwelcome artifacts.
Pricing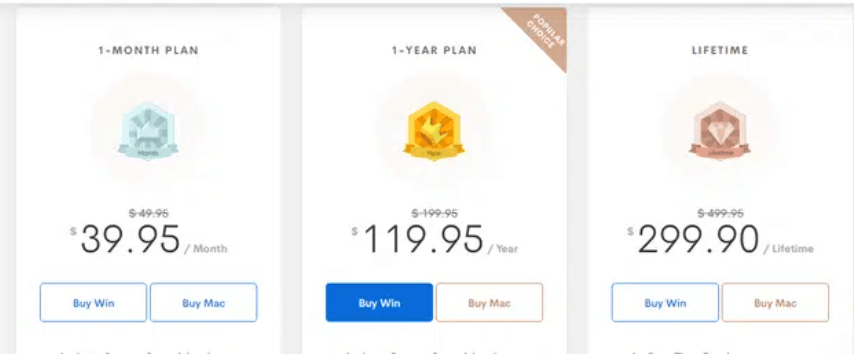 AVCLabs software offers three different pricing options to fit your needs and budget.
Choose from one month of use for only $39.95, one year at just $119.95 or go all-in with the lifetime unlimited option for $299.90 – it's up to you.
Bottom Line
If you're looking for an effortless and easy way to make your videos stand out, then look no further than AVCLabs Video Enhancer AI.
Their state-of-the-art noise reduction algorithms, automated beauty enhancements, diverse range of filters, text and audio commentary capabilities will help visualize all that is possible with the power of AI.
AVCLabs Video Enhancer AI has seamless integration into existing video editing workflows allowing you to edit quickly and effectively.
Overview
DVDFab Video Enhancer AI is a top-notch choice when it comes to AI video upscaling software.
This incredible program utilizes artificial intelligence to amplify the quality of your videos, not just in resolution but by optimizing image details and coloring for an even more vivid footage than before.
Supporting almost all video formats, this user-friendly software with its straightforward interface makes improving picture quality as simple as a click of the button – perfect for anyone who wants their visuals taken up a notch.
Highlights
Upscale your footage to 4k for crisper visuals.

Auto-correct coloration.

Revitalize videos taken with aging mobile phones and camcorders with a fully automated tool powered by advanced AI neural networks.

Eliminate blurriness and artifacts – all at the click of a button.
Pricing
DVDFab provides four convenient pricing options for users to choose from:
$59.99/mo plus one month of upgraded service

$79.99/yr plus a year of upgraded service

$99.99 for lifetime access plus unlimited free upgrade

For the ultimate package, get lifetime access with their AI Suite bundle at just $189.99
Bottom Line
If you're searching for a way to magnify the quality of your video footage, then DVDFab Video Enhancer AI is the ideal solution.
This software uses state-of-the art artificial intelligence technology to upscale videos up to 4K resolution while fixing common issues such as noise, blur and jagged edges.
Surprisingly simple and straight forward even for beginners; with just few clicks your work could be done.
Regardless if you are an amateur or a professional – DVDFab Video Enhancer AI will help improve the quality of video images in all your projects.
Overview
This cloud-based software also offers a myriad of features such as enhancing color and adding special effects to make it look even more stunning.
On top of that, multiple users are able to work together collaboratively on the same project with ease – something not many other AI video upscaling tools have available.
Highlights
Trusted name in Hollywood and elsewhere.

Fairlight audio processing matches sound seamlessly with visuals.

Its unique multiuser capabilities also allows you greater flexibility in remote collaboration and cloud-based workflows – something not many other AI software tools can provide.
Pricing
DaVinci Resolve 18 is free and offers a plethora of features for editing video, audio, and graphics.
If you're looking to take your projects to the next level with more advanced capabilities such as 3D tracking or multi-user collaboration tools, then DaVinci Resolve Studio 18 is $295.
Bottom Line
This video upscaling program is ideal for those more experienced in the art of filmmaking or have advanced ai video upscaling and editing skills.
But make no mistake, it still has an abundance of options and tools that will put any amateur filmmaker's creativity and ambition to good use.
Overview
When evaluating Artificial Intelligence and best video upscaling software, Pixop is definitely one of the most impressive options available.
Equipped with cutting-edge neural network technology, this software produces accurate and realistic results.
Plus, it has an intuitive user interface making processes simpler thanks to automation capabilities.

Also, its evergreen nature grants users access to frequent upgrades featuring new functionalities and improvements – thus assuring top quality output each time.
Highlights
Their upscaling solution is top-notch, allowing you to upgrade your videos to a stunning HD quality, 4K resolution, or even 8K.

Utilizing the latest frame rate conversion and deep restoration technology along with deinterlacing abilities, deblurring capabilities, and denoising functions; it's never been easier to enhance video quality for social media.

Remastering low quality video has never been simpler thanks to this secure, encrypted cloud-based software.

By blending key video editing programs into one solution, users benefit from streamlined workflow convenience with maximum peace of mind.
Pricing
With this software, you don't have to sign up for any subscriptions; it operates on a pay-as-you-go basis, so you only need to cover the processing and storage fees.
Check here for further details.
Bottom Line
If you're searching for the perfect video-editing platform to increase video resolution and produce captivating content on social media, then look no further than Pixop.
With easy access to text, images and audio features as well as built-in trimming and splicing tools – it's simple to create optimized videos that are ready for YouTube, Facebook or Instagram in a few clicks.
For those with expertise in major video editing software, as well as for rookies alike, Pixop is the ideal platform to develop stunning social media videos.
With a plethora of templates at your fingertips, you can easily create professional-looking video clips.
Furthermore, its user-friendly interface ensures that you need no technical knowledge – and will be up and running quickly.
Overview
When it comes to upscaling videos, iSize's AI video enhancer is a sure way to go.
Its unique algorithm is specifically tailored for this purpose and delivers outstanding results with minimal artifacts.
Additionally, you can modify a variety of parameters such as sharpness level or detail degree in order to achieve the desired outcome.
Plus, due its speediness when handling footage, you'll receive your output without any delays.
Highlights
Affordable.

Upscales video resolution to an immersive 4K resolution with iSize.

Transform your visuals into sharper, more vivid frames.

Advanced color correction capabilities for subtle tonal adjustments until it's perfect in every way.

Undoing is only a button away.
Pricing
You have the option to register and try for free.
To discover the current cost of iSize software, please visit the iSize website to register and try it out for free.
Bottom Line
If you're seeking to enhance the quality of your videos without breaking the bank on new equipment, then iSize video upscaling software is a good option.
Their AI upscaling software upgrades the resolution of footage remarkably well, making it much more vivid and crisp looking.
Not only that, but there are many other features at hand for improving video quality such as noise reduction and color correction for multiple video formats.
And if that wasn't enough already; iSize is incredibly straightforward which makes it a cinch for even those who aren't well-versed in editing videos.

If you're interested in learning more, check out our iSize review.
Overview
Utilizing the power of AI technology, this amazing program can take low-resolution videos and upscale them without sacrificing image quality.
With it, you'll be able to enjoy old school television programming from years ago in HD – no blurriness or pixelation visible.
All in all, GDFLab is a solid choice when it comes to finding an excellent video upscaling software solution.
Highlights
With GDFLab, thanks to AI models, you can ensure that your upscaled video will appear professionally sharp and of the highest quality.

Minimal effort – simply upload your video and let the tool work its magic.

There's no need to commit right away; take advantage of their free trial first in order to test out their services risk-free.

Cloud-based seamless video upscaling.

User-friendly interface and video upscaling process.
Pricing
New users can experience GDFLab absolutely free with a full-featured free trial.
Bottom Line
Those well-versed in video upscaling technologies and wanting a pay-as-you-go option should choose GDFLab.
This is the ideal solution for anyone who doesn't want to commit to a monthly or lifetime subscription.
If you're interested in learning more, check out our GDFLab review.
Overview
If you're searching for a remarkable free video upscaling software, then Video 2x is your answer.
This advanced AI technology can upscale any video to 4K resolution – perfect for watching on high-definition displays without compromising the realism of it.
Plus, with its speedy processing capability, you'll have no trouble waiting longer than necessary.
And if by chance you are not content with the result, you can revert back to the original version with a few button clicks.
Highlights
It costs nothing because it is free and open-source.

With a vast array of compatible formats for upscaling your videos, you'll find that it's effortless regardless what format they are originally in.

The advanced algorithms of this program enhance the quality of any video, from its resolution to sharpness and even color.
Pricing
With Video 2X, you don't have to pay a cent – it's completely free and open source.
Bottom Line
For those with a technical background, Video 2X allows you to enhance your average video into high quality video without spending a dime.
It may not be the best choice for novices due to its complexity; however, if you have some programming know-how, give it a go and observe how effortless it is to upgrade your video's picture sharpness instantly.
If you're interested in learning more, check out our Video2x review.
---
Budget-Friendly Alternatives for AI Video Upscaling
While the top AI video upscaling solutions discussed above offer impressive results, some users may be seeking more budget-friendly alternatives. In this section, we will explore two cost-effective options for AI video upscaling: VideoProc Converter and Simplified's AI Video Enhancer.
These solutions may not have all the bells and whistles of their higher-priced counterparts, but they still provide excellent results for those on a tight budget.
VideoProc Converter
VideoProc Converter is an all-in-one video processing software that offers a variety of options to enhance videos and improve video quality at an affordable price. It supports multiple input and output formats, making it compatible with major video formats.
This versatile software not only provides video upscaling features, but also includes video editing, conversion, compression, adjustment, and downloading and recording capabilities. With its user-friendly interface and comprehensive feature set, VideoProc Converter is an excellent choice for those seeking a budget-friendly AI video upscaling solution.
Simplified's AI Video Enhancer
Simplified's AI Video Enhancer is another cost-effective option for improving video quality. This powerful software utilizes artificial intelligence to enhance the quality of videos, making it one of the top AI video enhancers and upscalers in the market.
Simplified's AI Video Enhancer employs sophisticated algorithms to detect areas of the video that require improvement and applies a variety of techniques to enhance the video, including sharpening, color correction, and noise reduction. With its affordable price and advanced features, Simplified's AI Video Enhancer is an excellent choice for those seeking a cost-effective AI video upscaling solution.
Tips for Choosing the Right AI Video Upscaling Software
Selecting the right AI video upscaling software can be a daunting task, given the plethora of options available. To help you make an informed decision, we have compiled a list of tips to guide you in choosing the best AI video upscaling software based on your specific needs and preferences.
Assessing Video Enhancement Requirements
Before choosing an AI video upscaling solution, it's essential to evaluate your video enhancement needs and verify the system requirements of the software you're considering. Different video enhancer apps may have varying system requirements, such as high system memory or a minimum graphics card memory.
By assessing your needs and ensuring compatibility with your operating system, you can avoid potential issues and ensure maximum efficiency.
Comparing Pricing and Features
When evaluating AI video upscaling software, it's crucial to compare the pricing and features of different options. The cost of AI video upscaling software ranges from $39.95 to $299.99, so it's essential to determine your budget and desired features before making a decision.
Keep in mind that more expensive software may offer additional features or better performance, but more affordable options may still provide excellent results for your needs.
Considering User-Friendliness and Support
Lastly, it's important to consider the user-friendliness and support of the AI video upscaling software you're evaluating. User-friendliness refers to the ease of use of the software, while support refers to the availability of assistance when users have questions or encounter issues.
By selecting software that is easy to use and offers excellent support, you can ensure a smooth and enjoyable video upscaling experience.
---
FAQS
If you're looking to display a low-resolution image on an HD or 4K screen, basic upscaling was the go-to process.
Alas, this approach often harms detail and reduces quality.
To comprehend why this occurs, consider that 6 million fresh pixels are required for filling in a 4K screen with an HD picture – hence AI video upscaling technology must guess what those individual pixels should look like based off of the ones surrounding them.
Traditional upscaling begins from a lower-resolution image and works to refine the visuals for higher resolution video quality.
In contrast, AI video upscaling software employs an entirely distinct method.
AI video upscaling uses machine learning to analyze the details of a low-resolution video, and then adds extra pixels to make it look better – kind of like a magic zoom lens that can make your video look clearer, sharper, and more detailed.
Does AI upscaling work?
AI upscaling works by using artificial intelligence to analyze the source video or image and generate a higher quality version of it.
An excellent example of this is Adobe Firefly.

AI upscaling can work well for certain types of images or videos, such as landscapes, portraits, cartoons, or old footage.

However, AI upscaling may not work well for other types of images or videos, such as text, logos, or fast-moving scenes.

AI upscaling may also introduce artifacts, noise, or distortion in some cases.
What is the free AI tool to increase video quality?
A free AI tool I like to increase video quality is Video 2X.

It is a free and open source software that you can download and install on your Windows, Linux, or Docker computer.

Video 2X uses AI technology to upscale videos by up to 8x and enhance their resolution, clarity, and smoothness.

Video 2X has a command-line interface that allows you to customize various parameters, such as the input and output paths, the upscaling engine, the frame rate, and the noise reduction level.

Video 2X can improve the quality of different types of videos, such as anime, movies, games, or webcams
Why is AI Video Upscaling Necessary?
AI Video Upscaling is a useful technique for taking low-resolution videos and making them fit larger, higher definition screens.
For instance, if you have a 1080p video that needs to be viewed on a 4K screen, the upscaling will ensure it can fill the entire display properly – because otherwise it would only take up one quarter of the screen.
With this technology, even older or lower quality footage can look crisp and clear no matter what size device they're playing on.
Can AI upscale a video?
Yes, AI can upscale a video by using machine learning algorithms to add missing pixels and enhance the quality of the video.

AI upscaling can improve the resolution, sharpness, color, and detail of a video, making it look more realistic and professional.
Where Will AI Upscaling Be Useful?
AI video upscaling software drastically accelerates the process of enhancing videos while automating tasks like adjusting brightness and contrast that were once done manually.
Not only is this technology highly efficient and scalable, but it's also surprisingly cost-effective in the long run too.
You can achieve results with much greater speed than ever before; making you competitive within your industry with the best AI upscaling video.

You can now even get an AI video upscaling app that can be very useful from your phone.
Is there any free AI video upscaler?
While there are many AI upscaling programs on the market, Video 2x is a great free option that provides excellent quality results. It uses advanced machine learning algorithms to produce stunning video upscaling results, providing an excellent viewing experience for your content.
Can AI improve video quality?
Yes, AI can improve video quality. DVDFab Video Enhancer. AI uses machine learning to upscale low-resolution videos to HD quality and improve video details. This technology helps to enhance the video footage by optimizing colors, image details, and sharpness.
As such, AI technology has great potential to improve video quality.
How do I upscale to 4K with AI?
Using AI to upscale to 4K is simple and straightforward. Firstly, open the DVDFab Enlarger AI application and drag and drop the source video file onto the video editor screen. Next, select MP4.Enlarger.AI from the Output section and choose 4K resolution.
Finally, click on the 'Convert' button to initiate the conversion process. Your video will be upscaled to 4K in no time!
How to upscale video?
If you're looking to increase the quality of your video, there are four simple methods for upscaling 720p to 4K. Download and launch a video upscaling software, import or drag the video file, select the AI model in the Settings section, and preview the result.
Upscale your videos quickly and easily with these steps.
What is the best AI upscaling software?
The best AI upscaling software depends on your needs, preferences, and budget.

However, some of the most popular and powerful AI upscaling software I mentioned right here in this article.

Try them out and have fun!